Mexico's Copper Canyon
on GrandLuxe Rail Journeys

Larger Map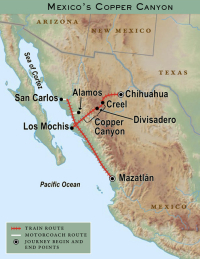 7 days - 6 Nights Onboard Train
includes meals + more
Scenic Rail and Colonial Towns...
The Copper Canyon has been called the most scenic rail journey in the world. Marvel at the awe-inspiring views, the dramatic changes in climate and vegetation, and the sheer engineering genius in this railroad that descends 6,550 feet in elevation to the Pacific Ocean through a system of canyons four times as large as the Grand Canyon. Along this seven-day journey, we'll enjoy beautiful colonial architecture, cobblestone streets, and central plazas where time has stood still. Throughout your journey, enjoy pampering and elegant comfort on the GrandLuxe Express. Contact Us for more details or to Book this trip
Featuring stops in...

all stops are in Mexico
Chihuahua
Creel
Copper Canyon
Divisadero
Alamos
San Carilos
Los Mochis
Mazatlan
DETAILED ITINERARY
Southbound
(Northbound is reverse itinerary)
DAY 1
CHIHUAHUA, MEXICO
Welcome aboard
Arrive at Chihuahua's international airport via one of the many daily flights from the United States. Airport greeting, orientation, and transfer to the GrandLuxe Express • Welcome Aboard Champagne Reception and Dinner • Overnight on the GrandLuxe Express (D)
DAY 2
CREEL
Indigenous peoples or Mexican masterpieces. Choose from the following: Cusárare Falls, the Jesuit Cusárare Mission and their collection of restored oil paintings • Tour the local area and perhaps visit with Tarahumara indians • Overnight on the GrandLuxe Express (B,L,D)
DAY 3
COPPER CANYON & DIVISADERO
One of the most scenic rail routes in the world. Morning at the rim of the canyon • Dance demonstration by Tarahumara indians • Geological discussion • Lunch aboard the train as we descend through the Copper Canyon • Overnight on the GrandLuxe Express (B,L,D)
DAY 4
ALAMOS
Colonial masterpiece. Home and garden tour in this town that was a major silver mining center in the 1600s • Tour of the old plaza, the church, and haciendas • Time for shopping or time on your own • Overnight on the GrandLuxe Express (B,L,D)
DAY 5
SAN CARLOS
Seaside adventure on the Sea of Cortez. Boat cruise along the shore, searching for dolphins and sea lions • Tour of a working saltwater pearl farm in Guaymas • Lunch at a San Carlos resort and time for shopping • Overnight on the GrandLuxe Express (B,L,D)
DAY 6
LOS MOCHIS
A day of choices in coastal Mexico.
Choose from: Cruise on Topolobampo Bay, Sugar Plantation, Botanical gardens and orchards, or River float trip – great for bird watching • Overnight on the GrandLuxe Express (B,L,D)
DAY 7
MAZATLÁN, MEXICO
Your GrandLuxe rail journey comes to a close. If time allows, enjoy the warmth of Mazatlán on your own before departing for home (B)
Meals included:
B=Breakfast
•
L=Lunch
•
D=Dinner
DATES
SOUTHBOUND -
Chihuahua to Mazatlan, Mexico
2008: Dec 14, Dec 28
2009: Jan 11, Jan 25, Feb 8, Dec 13, Dec27
2010: Jan 10, Jan 24, Feb 7

NORTHBOUND -
Mazatlan to
Chihuahua, Mexico
2008: Dec 20
2009: Jan 3, Jan 17, Jan 31, Feb 14, Dec 19
2010: Jan 2, Jan 16, Jan 30, Feb 13
PRICES PER PERSON
What's included?

Dec 2008 - Feb 2009

Dec 2009 - Feb 2010
Early bookings 6 months prior
Early bookings 6 months prior
Vintage Pullman
$ 5,070
$ 4,820

$ 5,280
$5,030
Single Sleeper Grand Class
$ 6,450
$ 6,200
$ 6,710
$ 6,460
Presidential Suites
$ 6,910
$ 6,660
$ 7,190
$ 6,940
Grand Suites
$ 7,230
$ 6,980
$ 7,520
$ 7,270
Prices are per person, double occupancy, except Single Sleepers which are single occupancy and Triple Suite which is triple occupancy. Early booking savings are available by booking at least 6 months prior to the departure date. Pricing subject to change - contact us for current availability.


Photos and information courtesy of GrandLuxe Rail Journeys. Travelsand is an independent travel agency, not a representative or employee of GrandLuxe Rail Journeys.