Train Journeys - What's Included?
GrandLuxe Rail Journeys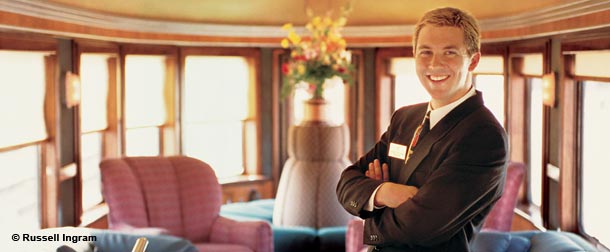 GrandLuxe Rail Journeys (formerly American Orient Express) vacations abound with included features both on and off the train. Consistent quality, added benefits and expanded trip options distinguish these exclusive North American rail adventures.
Included Benefits.
As a passenger, you will receive certain benefits as part of your vacation.
Overnight stays in hotels as indicated in the itinerary
Nights on board the GrandLuxe Train as indicated in the itinerary
Dinners, lunches, full American breakfasts and optional continental breakfasts
Complimentary house wine with dinner
Non-alcoholic beverages
Professionally guided tours
Comprehensive lecture series
Nightly live piano music
Personal service by rail car attendant
Welcome aboard and farewell champagne receptions
GrandLuxe Rail Journeys offers you several exciting updated itineraries to choose from. Each itinerary is scheduled during the season which allows you to enjoy the most a region has to offer. Each route highlights a region's distinctive characteristics. In varying combinations, the emphasis is on wildlife and natural beauty, history, ancient and contemporary culture and architecture. All GrandLuxe Rail Journeys offer a consistent level of service and quality.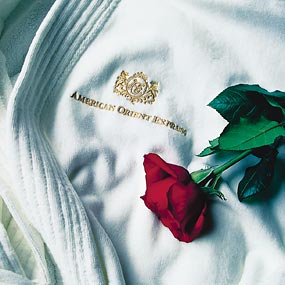 If you've ever attempted to plan a 7-day trip on your own, you know what a hassle making all the detailed plans can be. Flights, hotels, car rentals, sightseeing, meals ... the list goes on and on. In addition, trying to navigate on unfamiliar roads could really put a damper on your memorable vacation, much less eat up your valuable time. At the end of the day, you'll find the costs to plan such a detailed trip would far exceed your budget. Plus, getting there should be fun!
The value packed into a GrandLuxe Rail Journeys vacation is one of the best in the industry. Your travel agent and the GrandLuxe Rail Journeys team will carefully plan, coordinate and attend to every detail so you don't have to. These vacations include deluxe accommodations, quality enrichment programs, gorgeous scenery – where car and driver can not tread, extraordinary meals and a fabulous staff who will cater to your every whim.
Diverse Experiences.
Passengers enjoy a range of experiences. Our rail journeys pair comfort with wilderness, history with modern convenience, and cultural enrichment with interpretation. Only on a train can you dine on a fabulous meal with a glass of fine wine while you roll through mountains, plains or desert.
Ease And Efficiency.
Our rail trips make travel easy and efficient. You can explore a series of destinations, from pristine national parks to vibrant metropolitan centers, without packing and unpacking luggage, navigating unknown roads, and searching for restaurants and hotels.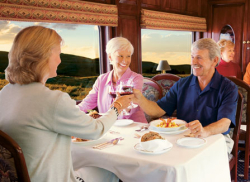 Carefree
. Your vacation is carefree. Your time is your own while professionals operate the train, transport luggage and handle arrangements. Sit back, relax and enjoy yourself!


First Class.
The train is first class, with exquisite fine dining, deluxe accommodations and our in-depth personal enrichment programs included on all rail adventures.
Personal Assistance.
If you have any questions about our rail adventures and included benefits, please
contact us
or call us at (802) 780-8900. We are happy to explain the vacations in further detail, to respond to your concerns, and to help you determine which itinerary is right for you. We look forward to finding your perfect rail vacation.
Photos and information courtesy of GrandLuxe Rail Journeys. Travelsand is an independent travel agent, not a representative or employee of GrandLuxe Rail Journeys.