Napa to Albuquerque
on GrandLuxe Rail Journeys

Larger Map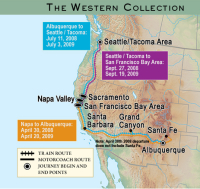 8 days - 7 Nights Onboard Train
includes meals + more
Your journey begins with 2 days in Napa, where you'll have time to explore on your own. Enjoy a taste of America's culinary heartland with a unique excursion on the Napa Valley Wine Train with wine tasting and gourmet lunch onboard, shopping and a visit to Domain Chandon Winery. Visit Sacramento, San Francisco and Santa Barbara, California. Your luxury train then brings you to one of the world's most spectacular geologic wonders, Grand Canyon National Park. Various activities at the South Rim including guided hikes, historic tours, etc. Your journey ends in Albuquerque, New Mexico. Contact Us for more details or to Book this trip
Featuring stops in...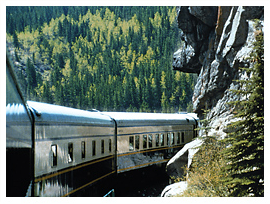 Napa Valley, California
Sacramento, California
San Francisco, California
Santa Barbara, California
Grand Canyon National Park
Albuquerque, New Mexico
DETAILED ITINERARY
DAY 1
NAPA VALLEY, CALIFORNIA
Welcome to GrandLuxe. Your journey begins in Napa • Arrive early to explore the area on your own • Check-in and Orientation • Board the GrandLuxe Express • Welcome Aboard Champagne Reception and Dinner • Overnight on the GrandLuxe Express (D)
DAY 2
NAPA VALLEY, CALIFORNIA
Enjoy a taste of America's culinary heartland. Unique excursion on the Napa Valley Wine Train with wine tasting and gourmet lunch onboard, shopping and a visit to Domain Chandon Winery • Overnight on the GrandLuxe Express (B,L,D)
DAY 3
SACRAMENTO, CALIFORNIA
Rail History Comes Alive. California State Railroad Museum, one of North America's finest and most visited rail museums • Time to explore and shop in historic Old Sacramento • Overnight on the GrandLuxe Express (B,L,D)
DAY 4
SAN FRANCISCO, CALIFORNIA
An enchanting day in the City by the Bay. Choose from: Fisherman's Wharf and a variety of museums • a culinary excursion • or time to shop and explore Union Square • Overnight on the GrandLuxe Express (B,L,D)
DAY 5
SANTA BARBARA, CALIFORNIA
The perfect place to stroll, shop and admire the Pacific Ocean. Free time to explore and shop the famous Paseo • Guided walking tour • Scenic afternoon rail journey along the Pacific Coast Overnight on the GrandLuxe Express (B,L,D)
DAY 6
GRAND CANYON NATIONAL PARK, ARIZONA
Your luxury train brings you to one of the world's most spectacular geologic wonders. Various activities at the South Rim including guided hikes, historic tours, etc. • Overnight on the GrandLuxe Express (B,L,D)
DAY 7
SANTA FE, NEW MEXICO
One of America's great art and culinary capitals. Choose from: World-renowned art galleries, shops, and museums; walking tour of plaza, visit with an artist at their studio, Georgia O'Keeffe Collection at the Museum of Fine Arts, or Institute of American Indian Arts • Overnight on the GrandLuxe Express (B,L,D)
DAY 8
ALBUQUERQUE, NEW MEXICO
Your journey ends in Albuquerque • Explore the city on your own if you wish (B)
Meals included:
B=Breakfast
•
L=Lunch
•
D=Dinner
DATES
Napa Valley
to
Albuquerque
2009: April 20 - 27
PRICES PER PERSON
Prices per person
What's included?
2009
April 20 -
April 27
Vintage Pullman
$ 5,790

Single Sleeper
$ 7,100
Single Sleeper Grand Class
$ 7,470
Triple Suite
$ 7,450
Parlor Suite
$ 7,620
Presidential Suites
$ 8,030
Grand Suites
$ 8,410
Gold Suites
$ 8,780
Prices are per person, double occupancy, except Single Sleepers which are single occupancy and Triple Suite which is triple occupancy. Early booking savings are available by booking at least 6 months prior to the departure date. Pricing subject to change - contact us for current availability.


Photos and information courtesy of GrandLuxe Rail Journeys. Travelsand is an independent travel agency, not a representative or employee of GrandLuxe Rail Journeys.